New York, Sept. 13, 2023 (GLOBE NEWSWIRE) — The global vinyl ester market size is slated to expand at ~7% CAGR between 2023 and 2033. The market is poised to garner a revenue of USD 3 billion by the end of 2033, up from a revenue of ~USD 2 billion in the year 2022.The rise in industrialization and production has caused an increase in demand for materials that are able to withstand high temperatures and chemicals. Vinyl ester is particularly well-suited for this purpose owing to its high thermal stability and chemical resistance. As a result, its usage has grown rapidly in various end-use industries.
Request Free Sample Copy of this Report @ https://www.researchnester.com/sample-request-4596
It was observed that industrial production in the USA increased by 0.4 percent in September 2022 and by 2.9 percent in the third quarter of 2022. There was an increase of 0.6 percent in the mining index. There was a 5.3% increase in total industrial production in September compared to September last year, or 105.2% of its average for 2017. Additionally, it provides superior mechanical properties, such as high tensile strength, good elongation, and low shrinkage. This makes it ideal for the production of complex components, which is why it is widely used in the automotive and aerospace industries.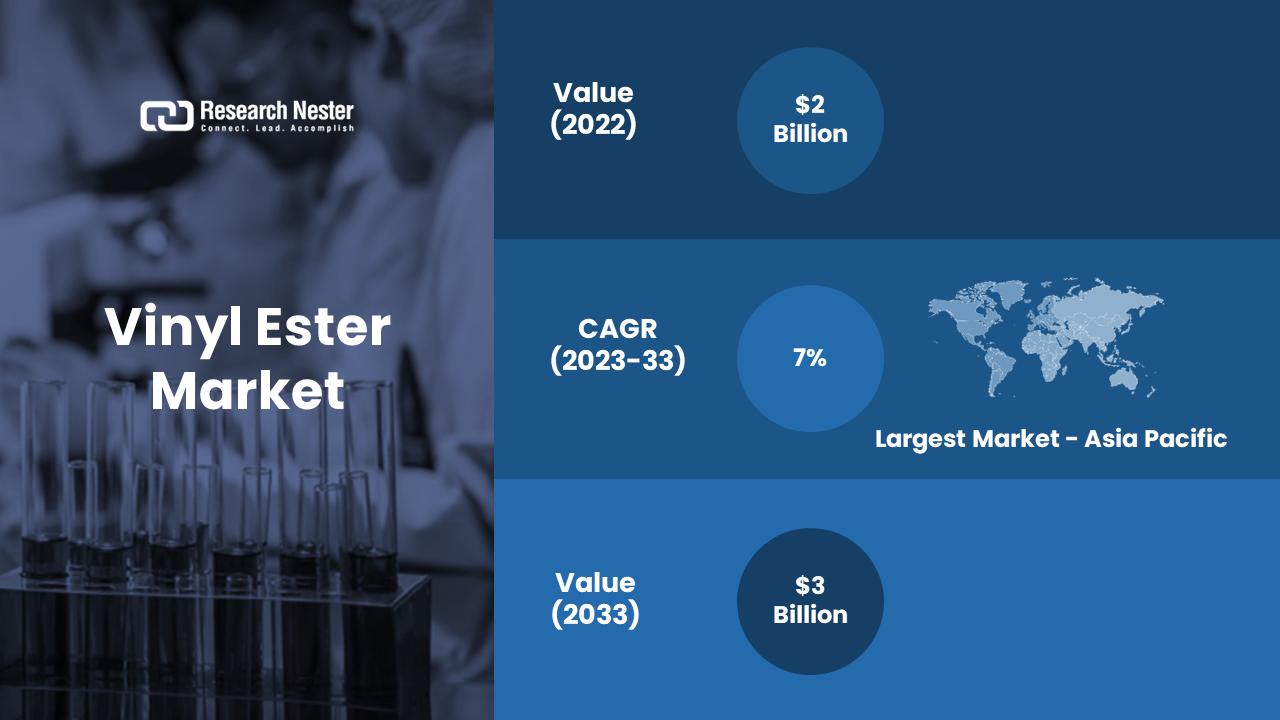 Vinyl Ester Market: Key Takeaways
Market in Asia Pacific to propel the fastest growth
Among the segments, Bisphenol A is expected to have the highest growth rate
Market in North America to grow at a highest rate
Increasing Installations of Flue Gas Desulfurization (FGD) as a Result of Environmental Concerns to Boost Market Growth
The increase in the number of power plants contributes to a higher concentration of sulfur dioxide in the atmosphere, which is a major contributor to air pollution. Flue-gas desulfurization (FGD) is a technology that removes sulfur dioxide from the exhaust of power plants, thus reducing the amount of air pollution. It is estimated that over 3,300 fossil fuel-fired power plants are in operation in the United States. Recently, over 6.3 million tons of sulfur dioxide were emitted by manmade sources in the U.S. FGD installations use vinyl ester to protect the steel structures that are used to capture pollutants, and the resins also offer superior corrosion resistance compared to traditional materials, making them the preferred choice for many applications. Furthermore, stricter environmental regulations are pushing companies to invest in FGD technology, thus driving up the demand for vinyl ester resins. Moreover, vinyl ester resins are corrosion resistant and offer superior mechanical strength, making them ideal for FGD applications. In addition, their ability to resist temperatures up to 300°F makes them an excellent choice for flake glass lining systems. Increased infrastructural investments are also expected to drive the growth of the market, as they are often used in the construction of new and retrofit FGD systems.
Vinyl Ester Market: Regional Overview
The market is segmented into five major regions including North America, Europe, Asia Pacific, Latin America, and the Middle East and Africa region. 
Rapid Growth in Maritime and Shipbuilding Industries to Boost the Growth in the Asia Pacific Region
The vinyl ester market in Asia Pacific region is estimated to garner the largest revenue by the end of 2033. The region is witnessing rapid growth in the shipbuilding and marine repair industries, which is contributing to an increase in the demand for vinyl ester resins. For instance, China's seaport cargo volume rose to nearly 9 billion metric tons in 2021, while inland river ports saw their cargo volume increase to 5.5 billion metric tons. The vinyl ester resins are used for high-performance applications in the marine industry, such as hulls and decks, which are exposed to harsh conditions. This is driving the growth of the vinyl ester market in the region. Moreover, the growing population in countries such as India, China, and Japan, along with the increasing urbanization rates and rising disposable incomes, has created a greater demand for gas and oil, which has driven the growth of the market in the region. It was estimated that China's gas consumption reached 375 to 380 billion cubic meters in 2022, an increase of 1% to 3% from 2017. Vinyl ester resins are used in the oil and gas industry to create corrosion-resistant coatings and linings for storage tanks, pipelines, and other equipment that needs to be protected from the harsh environment.
Make an Inquiry Before Buying this Report @ https://www.researchnester.com/inquiries-before-buying-4596
Intensifying Efforts to Develop the Aerospace Sector And Expand Aircraft Production To Drive The Growth In The North America Region
The vinyl ester market in North America region is estimated to garner highest CAGR by the end of 2033. The increasing focus on the development of the aerospace sector and the expansion of aircraft are the primary factors that are propelling the growth of the market in the North American region. It was observed that the U.S. aerospace industry continues to be the most efficient and profitable industrial sector, producing a trade balance of USD 77 billion in 2019 and exporting USD 148 billion. Over the past decade, aerospace exports have grown at an average rate of 5.31 percent. The rising demand for a lightweight and durable material for aircraft components and the growing demand for composite materials in the aerospace industry are further expected to drive the growth of the vinyl ester market. Vinyl ester fiberglass-reinforced structures are lightweight and strong, making them perfect for the construction of aircraft. They are also corrosion-resistant, so they can withstand the elements better than other materials. Additionally, they are relatively inexpensive compared to other materials, making them a popular choice for aircraft construction. Moreover, a rise in paint and coating consumption in North America is further anticipated to fuel the vinyl ester market growth driven by growing construction activities. In 2020, the United States had a total paint consumption of over 860 million gallons in 2020. Of those, more than 350 million gallons were consumed by the DIY segment ('do it yourself') in the United States. This is a substantial amount of paint consumption for a developed country. Vinyl esters are widely used in the production of paints and coatings owing to their superior properties such as resistance to chemicals and UV radiation, thereby augmenting regional market growth in the coming years.
Vinyl Ester, Segmentation by Type
Novolac
Bisphenol A
Brominated
Elastomer Modified
The Bisphenol A segment in vinyl ester market is anticipated to hold the largest revenue by the end of 2033. The growing demand for corrosion-resistant materials in the marine industry and its need for lightweight, durable materials are the key drivers of the Bisphenol A segment growth. Additionally, the increasing use of Bisphenol A vinyl ester resins in chemical applications and FGD processes owing to their superior properties will boost their demand in the near future. Moreover, the growth of plastic production is generating applications for bisphenol as it is an important ingredient in the manufacture of polycarbonate plastics. An estimated 389 million metric tons of plastic were expected to be produced globally in 2021, a 4% increase over the previous year. BPA is a chemical primarily used in the manufacture of polycarbonate plastics. As a result, it is also used in the production of food and beverage containers, compact discs and DVDs, medical devices, and dental sealants. It is also found in various products including shatterproof windows, eyewear, water bottles, and epoxy resins that coat some metal food cans, bottle tops, and water supply pipes.
Vinyl Ester, Segmentation by Application
Wind Power
Marine
Pipes and Tank
Chimney Liners
Soil & Gas
Scrubbers
The pipes and tanks segment is anticipated to hold the largest revenue by the end of 2033. Fiber-reinforced plastic (FRP) pipes and tanks are increasingly being used in corrosive environments as they are lightweight, cost-effective, and offer excellent corrosion resistance. Vinyl ester resins are an important part of the construction of these pipes and tanks since they provide superior chemical resistance and low permeability. In addition, the rising focus on the treatment of industrial and household wastewater is expected to drive the growth of the segment in the future. According to data from 125 countries representing 80% of the global population, 55 percent of household wastewater flows were safely treated in 2020. Wastewater applications widely utilize vinyl ester-based pipes to reduce the need for long-term maintenance and the operation of pumps. Moreover, they require less energy to operate pumps, which reduces the overall energy consumption of wastewater treatment systems. Furthermore, vinyl esters offer several advantages over other resin systems such as higher strength-to-weight ratio and improved thermal and mechanical properties. These properties make them an ideal choice for the fabrication of FRP storage tanks, pipelines, and duck systems, thereby contributing to the growth of this market segment.
Request for Customization of this Report @ https://www.researchnester.com/customized-reports-4596
Vinyl Ester, Segmentation by End User
Mining Equipment
Building and Infrastructure
Paints & Coatings
Transportation
Paper
Few of the well-known industry leaders in the vinyl ester market that are profiled by Research Nester INEOS Limited, Interplastic Corporation, Nivitex Fibreglass and Resins, Poliya Composite Resins and Polymers Inc., Polynt S.p.A., Scott Bader Company Limited, Showa Denko K. K., Sino Polymer Co. Ltd., Swancor Holding Co Ltd., AkzoNobel and other key market players.
Recent Development in the Vinyl Ester Market
Polynt S.p.A. today announced plans to increase coating resin production capacity to better serve the North American coatings market. A complete operational system will be available by the year 2023, allowing it to meet the growing demand for paints and coatings.
Univar Solutions has been selected as the Eastern Canada distributor for Interplastic Corporation's gel coats, colorants, and bonding compounds that are unsaturated polyester resins. Univar Solutions has the experience and expertise to provide the highest quality products, as well as the necessary resources and capabilities to effectively support Interplastic Corporation's customers in the Eastern Canada region.
About Research Nester
Research Nester is a one-stop service provider with a client base in more than 50 countries, leading in strategic market research and consulting with an unbiased and unparalleled approach towards helping global industrial players, conglomerates and executives for their future investment while avoiding forthcoming uncertainties. With an out-of-the-box mindset to produce statistical and analytical market research reports, we provide strategic consulting so that our clients can make wise business decisions with clarity while strategizing and planning for their forthcoming needs and succeed in achieving their future endeavors. We believe every business can expand to its new horizon, provided a right guidance at a right time is available through strategic minds.