New York, Sept. 19, 2023 (GLOBE NEWSWIRE) — The global porous silicon substrates market size is predicted to expand at ~7% CAGR between 2023 and 2033. The market is projected to garner a revenue of USD 10 billion by the end of 2033, up from a revenue of ~USD 5 billion in the year 2022.The major growth factor for the global porous silicon substrate market is attributed to the rise of the global Internet of Things (IoT). According to recent data, the number of Internet of Things (IoT) devices is expected to triple from 10 billion in 2020 to 30 billion in 2030. The "Internet of Things" describes physical objects with sensors, processing capabilities, software, and other technologies that connect and exchange data with other devices and systems over the Internet and other communication networks.
Request Free Sample Copy of this Report @ https://www.researchnester.com/sample-request-4505
The IoT ecosystem consists of web-enabled smart devices that collect, transmit, and respond to data collected from the environment using embedded systems such as processors, sensors, and communication hardware. IoT devices share collected sensor data by connecting to IoT gateways or other edge devices. There, the data is either sent to the cloud for analysis or analyzed locally. These devices may communicate with other related devices and respond to information received from each other. Devices do most of the work without human intervention, but humans can interact with them. For instance, setup, instructions, access to data, and others.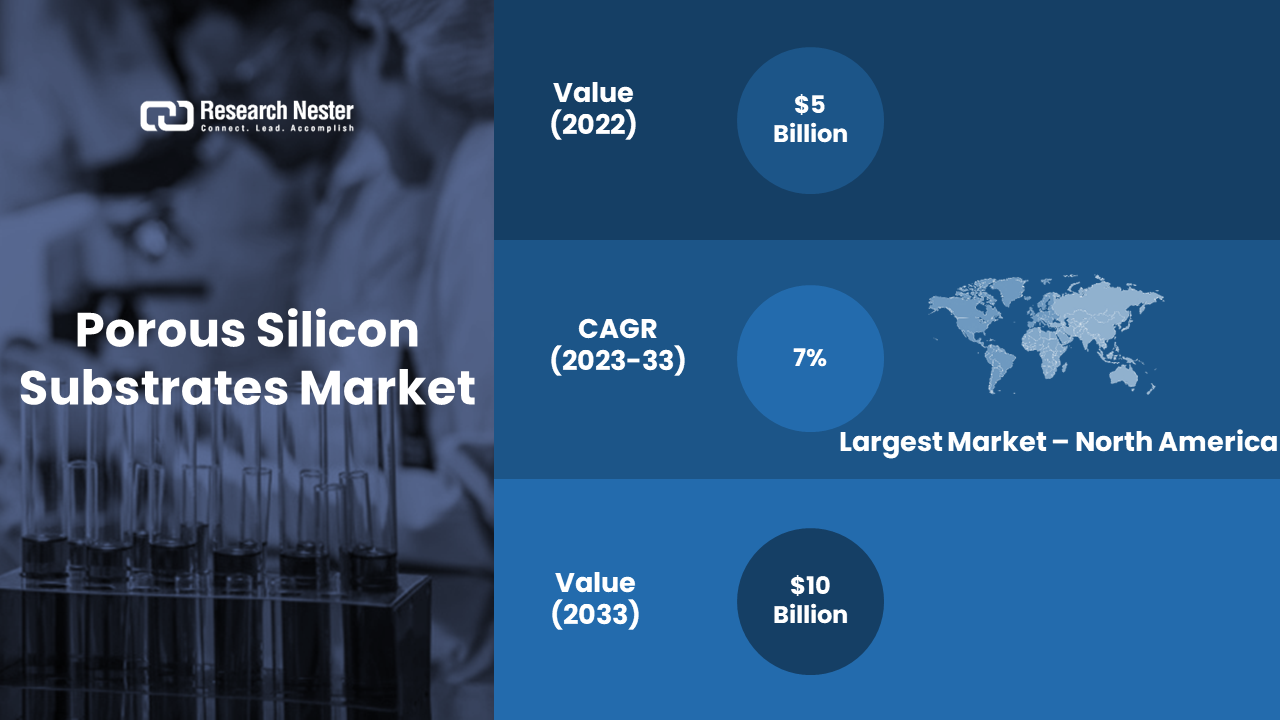 Expansion of the Electronics Sector across the Globe to Boost Market Growth
Porous silicon substrates are widely used in many electronic fields, such as computers, energy devices, healthcare devices, and other applications. Therefore, the expansion and growth of the electronics sector are expected to generate significant revenue during the evaluation period. According to recent estimates, the US electronics industry was worth USD 300 billion in 2019. Hence, this is estimated to be an important factor to drive the growth of the global porous silicon substrates market over the forecast period. Porous silicon, typically a few microns thick film produced by electrochemically etching a silicon wafer in HF solution under anodic current, was first discovered by Uhlir in 1956 at Bell Laboratories in the United States. Porous silicon, or solid silicon with voids inside, is one of the most important porous materials with a wide range of applications, from batteries and fuel cells to drug delivery and diagnostics. Worldwide growth of the health care and chemical industries is also contributing to the growth of the market across the globe.
Global Porous Silicon Substrates Market: Regional Overview
The market is segmented into five major regions including North America, Europe, Asia Pacific, Latin America, and the Middle East and Africa region.
Expansion of the Electronics Sector to Drive Market Growth in the North American Region
The porous silicon substrates market in the North American region is estimated to garner the largest revenue by the end of 2033. The growth in the regional market can be mainly attributed to the expansion of the electronics sector in the region. In 2019, the US consumer electronics industry was worth nearly USD 300 billion. Another growth factor that is believed to be positively contributing to the expansion of the porous silicon substrate market in the region is the high chemical consumption among Americans. The calculation of chemical consumption in 2020 was estimated at least at 230 million tons, or 4% higher than in 2019. Porous silicon, or solid silicon with voids inside, is one of the most important porous materials with a wide range of applications, from batteries and fuel cells to drug delivery and diagnostics. For the past 25 years, optoelectronics, especially luminescence, has been the main area of interest for porous silicon, but the material has recently found its way into the cosmetics, consumer care, nutritional, and food industries. Making porous silicon is fairly easy and cheap. It can be done in several ways, depending on the desired structure and properties. It exhibits highly tunable structural, mechanical, optical, electrical, thermal, radiative, and physicochemical properties. Some properties, such as luminescence and medicinal biodegradability, are a direct result of nanoscale pore formation and are not observed in bulk silicon.
Make an Inquiry Before Buying this Report @ https://www.researchnester.com/inquiries-before-buying-4505
Growing Pharmaceutical Industry to Drive Growth in Asia-Pacific Market
The porous silicon substrates market in the Asia Pacific region is estimated to garner the highest CAGR by the end of 2033. The market growth is mainly owing to the increasing use of pharmaceuticals, the significant expansion of pharmaceutical manufacturing businesses, and the widespread use of porous silicon as an ingredient in the pharmaceutical industry. For instance, China's pharmaceutical industry grew by 4% compared to 2018 and 2019. In 2019, more than USD 276 billion worth of pharmaceuticals were manufactured in China. Porous silicon (PSi) has been the subject of fairly extensive research as a result of its potential to fabricate optoelectronic and chemical or biological sensing devices. It is generally accepted that the morphology and growth rate of the PSi layer strongly depend not only on the type and resistivity of the crystal wafer but also on the anodic etching conditions such as hydrofluoric acid content, current density, and exposure time of the etching solution.
Porous Silicon Substrates, Segmentation by Application
Medical & Healthcare
Battery Applications
Thin Film Applications
Others
Amongst these four segments, the medical and healthcare in porous silicon substrates market segment is anticipated to hold the largest share over the forecast period. The growth of this segment is owed to the large number of healthcare users. Studies show that by 2025, the number of users in the healthcare sector is expected to grow to around 1.3 billion people worldwide. In addition, user penetration is calculated at 12% in 2022 and is projected to increase to 18% by the year 2025. The healthcare industry is the aggregation and integration of sectors within the economic system that provide goods and services to treat patients with curative, preventive, rehabilitation, and palliative care. Health care means many things, primarily aimed at obtaining and maintaining good health. Central to medicine is the use of medicine to treat disease, and in the West, it is highly intertwined with medicine.
Porous Silicon Substrates, Segmentation by Type
Microporous
Mesoporous
Macroporous
Amongst these three segments, the microporous segment in porous silicon substrates market is anticipated to hold a significant share over the forecast period. Microporous materials are materials that contain pores with diameters less than 2 nm. Examples of microporous materials include zeolites and organometallic frameworks. Porous materials are classified into different types according to their size. In fact, almost all porous silicon structures produced by electrochemical etching or silica reduction are predominantly mesoporous (pore size 2–50 nm) or macroporous (pore size > 50 nm), not microporous. Nevertheless, porous silicon structures with very large surface areas (up to 1125 m2/g) and high micropore content have now been demonstrated by wafer anodization with high concentrations of hydrofluoric acid. Metal-assisted stain etching, electrolytic etching, and silica reduction also produced some microvoid content within the silicon. The smallest electrochemically generated pores to date are probably "supermicropores," with diameters in the 1-2 nm range as a result of the lack of molecular sieves in the molecular size range 0.4-0.85 nm. Highly microporous silicon may be beneficial for many specific applications, such as hydrogen storage, catalysis, getters, explosives, and gas sensing. Hence, this is estimated to fuel segment growth over the forecast period.
Request for Customization of this Report @ https://www.researchnester.com/customized-reports-4505
Few of the well-known industry leaders in the porous silicon substrates market that are profiled by Research Nester are NORITAKE CO., LIMITED, NGK SPARK PLUG CO., LTD., Refractron Technologies Corp., Microchemicals GmbH, and Porous Silicon,
Recent Development in the Porous Silicon Substrates Market
Invested in Neoplus Med GmbH through a CVC fund jointly operated by NGK SPARK PLUG CO., LTD., a public company established in 1936, Pegasus and Tech Ventures, Neoplas med GmbH recently launched a unique wound healing technology called cold plasma radiotherapy.
About Research Nester
Research Nester is a one-stop service provider with a client base in more than 50 countries, leading in strategic market research and consulting with an unbiased and unparalleled approach towards helping global industrial players, conglomerates and executives for their future investment while avoiding forthcoming uncertainties. With an out-of-the-box mindset to produce statistical and analytical market research reports, we provide strategic consulting so that our clients can make wise business decisions with clarity while strategizing and planning for their forthcoming needs and succeed in achieving their future endeavors. We believe every business can expand to its new horizon, provided a right guidance at a right time is available through strategic minds.