New York, Sept. 14, 2023 (GLOBE NEWSWIRE) — The global Nickel Acetate Market size is expected to expand at ~ 4 % CAGR from 2023 to 2035. The market is anticipated to garner a revenue of USD 80 billion by the end of 2035, up from a revenue of ~USD 52 billion in the year 2022. The market growth is attributed to the increasing demand for nickel acetate usage in various industries, such as automotive, electronics, electrical, aesthetics, and metallurgy. In addition to protecting against rust, nickel acetate is used in automotive coatings to brighten the surface of metallic or non-metallic parts and to metallize plastic parts to improve their strength. According to the latest automotive industry research, global vehicle sales are steadily increasing from about 60 million units in 2020 to more than 70 million units in 2021, and the global nickel acetate market is growing at a considerable rate.
Request Free Sample Copy of this Report @
https://www.researchnester.com/sample-request- 4195
Nickel acetate is a greenish, crystalline inorganic compound that evolves a toxic gas when heated. It is used in textile dyeing processes, electroplating, and as a catalytic intermediate. Exposure to this substance can cause severe dermatitis, skin and asthma-like allergies, and damage to the lungs, kidneys, gastrointestinal tract, and nervous system. Nickel acetate is a known carcinogen and is associated with an increased risk of developing lung and nose cancer.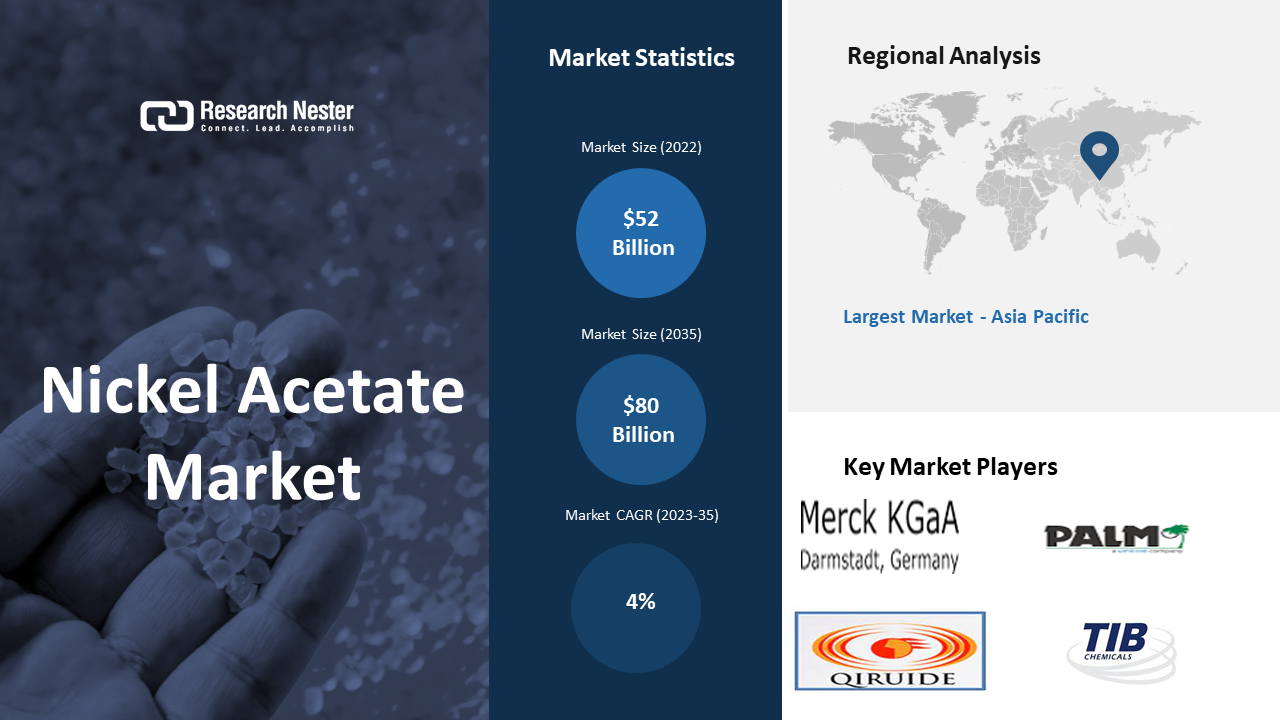 Global Nickel Acetate Market: Key Takeaways
Market in Asia Pacific to propel highest growth
The aluminum surface treatment division segment to garner the highest growth
Market in North America to grow at a highest rate
Global Advances in the Automobile Industry to Drive Market Growth
Nickel acetate is used in the manufacture of fasteners, bolts, hydraulic systems, shafts, and other engine components owing to its properties such as corrosion resistance, wear resistance, abrasion resistance, and ductility. Continued improvement in the automotive industry is expected to drive the growth of the global nickel acetate. According to the International Trade Administration, China has the world's largest automotive industry in terms of both annual sales and production, with auto production expected to hit 35 million by the year 2025. Nickel acetate is used as a mordant to fix the color of fabrics in textile dyeing. The booming textile industry is expected to drive the global market. Between April and December 2021, India alone exported about USD 30 billion worth of textiles. The textile industry is primarily concerned with the design, production, and distribution of textiles, threads, fabrics, and clothing. Starting materials can be natural or synthetic, using products of the chemical industry. Textiles are materials made from fibers, such as natural or synthetic fine threads or filaments, or a combination of both. Textile fibers can be divided into natural (organic) and synthetic (synthetic, industrial) fibers, and there is a huge variety of textile fibers. Textile production is a booming industry in many countries around the world. The addition or loss of the textile industry may create or reduce savings, which in turn may affect people's ability to support their families and provide the basic necessities of life.
Global Nickel Acetate Market: Regional Overview
The global nickel acetate market is segmented into five major regions including North America, Europe, Asia Pacific, Latin America, and the Middle East and Africa region.
Presence of Important Key Players to Drive the Market Growth in Asia Pacific Region
The nickel acetate market in the Asia Pacific region is estimated to garner the largest revenue by the end of 2035. The regional growth can majorly be attributed to the increase in the presence of important key players. Mass production of nickel acetate, the establishment of new manufacturing bases across the region, and rapid industrialization in developing countries such as China and India are expected to boost market growth. India's production of major chemicals will grow by 14.09% year-on-year from 2021 to 2022, while inorganic chemicals such as nickel acetate will grow by 7.5%, according to the latest study by the National Investment Promotion and Mediation Agency. Nickel acetate creates a corrosion-resistant coating that protects metals from rusting and oxidizing. It is a water-soluble nickel source that decomposes to nickel oxide when heated, and a metal acetate is an inorganic salt containing an acetate anion and a metal cation. Nickel acetate is ideal for the production of catalysts, nanoscale materials, and ultrapure compounds. It is a very pure anti-caking salt used in all types of plating processes. Nickel acetate is manufactured specifically for use as an anodizing sealer. It is manufactured to exacting specifications from carefully selected raw materials and is subject to strict quality control.
Advancements in the Aerospace Industry to Propel Growth in the North American Region
The nickel acetate market in the North American region is estimated to garner the highest CAGR by the end of 2035. The growth of the market in this region can primarily be attributed to the notable advancements in the aerospace sector or industry in the region. Nickel-based plating has excellent adhesion and corrosion resistance and provides uniform coating thickness, which is most important in the aerospace industry. The total aerospace and defense industry revenue in the United States was USD 382 billion, according to the United States Aerospace and Defense Industry. Advancements in the aerospace industry are expected to boost the growth of the nickel acetate market in the region. The aerospace industry includes the manufacture of a wide range of aerospace products, including airliners, military aircraft, helicopters, gliders, spacecraft, rockets, satellites, and other space-related items. While aviation deals with the entire aviation industry and institutions, aerospace focuses on aircraft research, design, manufacturing, and maintenance. Important areas in aerospace are avionics, thermodynamics, control and propulsion systems, electronics, and aerodynamics.
Make an Inquiry Before Buying this Report @
 https://www.researchnester.com/inquiries-before-buying- 4195
Global Nickel Acetate, Segmentation by Application
Electroplating
Ceramics Glaze
Aluminum Surface Treatment
Coinage
Textile Dyeing
Others
Amongst these six segments, the aluminum surface treatment segment is anticipated to hold the largest share over the forecast period. The growth of the segment can be attributed to its wide range of applications, such as construction, transportation, the manufacturing of electricity, and consumer goods. According to the latest research, more than USD 1 trillion worth of private and public buildings are built each year in the United States alone. Anodizing is a common surface treatment used to keep aluminum parts from corroding. Aluminum heat treatment is the process of increasing the strength and hardness of a specific subgroup of aluminum alloys: precipitation-hardenable wrought and cast alloys. Precipitation-hardenable aluminum alloys include the 2XXX, 6XXX, 7XXX, and 8XXX series. Typical heat treatments for aluminum are annealing, homogenization, solution heat treatment, natural aging, and artificial aging (also known as precipitation hardening). Furnace temperatures range from 240 to 1000 °F, depending on the process used. It is important to remember that heat-treating aluminum is quite different from heat-treating steel.
Global Nickel Acetate, Segmentation by Product Type
Military Grade
Reagent Grade
Food Grade
Amongst these three segments, the food grade segment is anticipated to hold a significant share over the forecast period. This segmental growth can majorly be attributed to the significantly growing food and beverage industry all over the world. The industry is predicted to witness robust revenue of nearly USD 6.5 billion by the year 2031. Increasing consumption of packaged food and flavored drinks is also estimated to be a major factor influencing the growth of this segment. Food grade is largely used in the food and beverage industry, especially in ready-to-eat food. Hence, the growth of the food and beverage industry is expected to be a major factor contributing to segmental growth.
Request for Customization of this Report @
https://www.researchnester.com/customized-reports- 4195
Global Nickel Acetate, Segmentation by Purity
<99% Pure
99% Pure
>99% Pure
Global Nickel Acetate, Segmentation by Product Form
Few of the well-known market leaders in the global nickel acetate market that are profiled by Research Nester are Merck KGaA, Fairsky Industrial CO., Limited, Noah Chemicals Corporation, Palm Commodities International, LLC, Zhangjiagang Huayi Chemical Co. Ltd., and other key market players.
Recent Development in the Global Nickel Acetate Market
Hunter Chemical LLC has added a new conductive nickel product – conductive grade AH55C – to its line of nickel powders. AH55C is suitable for EMI/RFI shielding coatings and sealants.
ProChem Inc. announces the addition of new inorganic compounds to its catalog for use in energy, electronics, and chemical synthesis applications.
About Research Nester
Research Nester is a one-stop service provider with a client base in more than 50 countries, leading in strategic market research and consulting with an unbiased and unparalleled approach to helping global industrial players, conglomerates, and executives for their future investments while avoiding forthcoming uncertainties. With an out-of-the-box mindset to produce statistical and analytical market research reports, we provide strategic consulting so that our clients can make wise business decisions with clarity while strategizing and planning for their forthcoming needs and succeed in achieving their future endeavors. We believe every business can expand to its new horizon, provided the right guidance at the right time is available through strategic minds.