New York, Sept. 14, 2023 (GLOBE NEWSWIRE) — The global metal and ceramic injection molding market size is slated to expand at ~8% CAGR between 2023 and 2033. The market is poised to garner a revenue of USD 7 billion by the end of 2033, up from a revenue of ~USD 1 billion in the year 2022.The market growth is mainly on the back of the expansion of the chemical industry across the globe. For instance, the Indian chemical industry accounted for about USD 170 billion in 2019 and is expected to reach about USD 300 billion by 2025. Metal injection molding is a metalworking process in which fine powder metal is mixed with a binder material to create a "raw material" which is shaped and consolidated by injection molding.
Request Free Sample Copy of this Report @ https://www.researchnester.com/sample-request-4565
The molding process allows him to mold complex parts in one step in large quantities. This method is well established for injection molding and replication by metal injection molding (MIM) or ceramic injection molding (CIM). Fine metal or ceramic powders are mixed with raw materials using a binder system and injected into a mold containing microstructure mold inserts.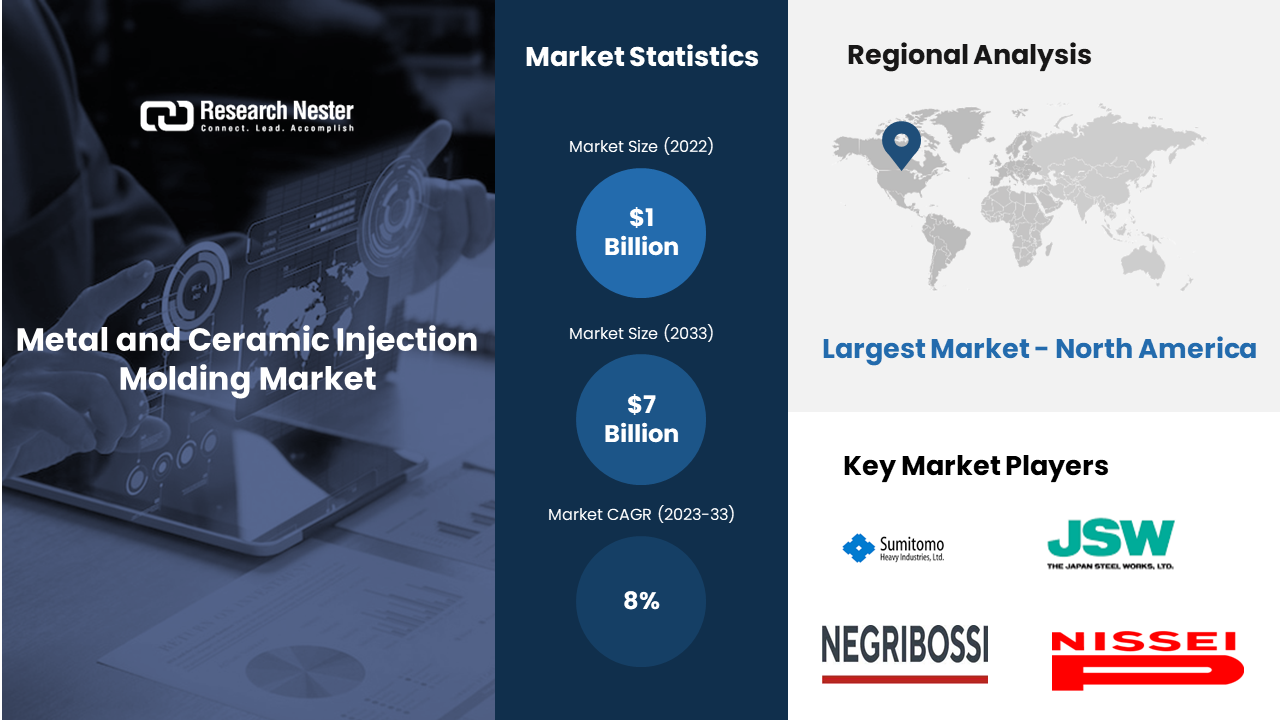 Increasing Concerns About Fuel Economy Around the World to Boost Market Growth
An injection molding machine is a production machine for mass-producing plastic molded products. An injection molding machine consists of two main components: the injection unit and the clamping unit. The machine is filled with molten plastic using a mold, and the molten plastic is injected under very high pressure into the mold. It is used to manufacture products made of plastic, rubber, metal, and ceramics. Rubber is widely used in the automotive industry to produce lightweight vehicles that are rapidly expanding around the world. According to the US Department of Energy, reducing vehicle weight by about 10% can improve fuel economy by 6%–8%. Hence, it is estimated to be the key factor driving the growth of the global metal and ceramic injection molding market. Ceramic Injection Molding (CIM) enables the near-net mass production of complexly shaped ceramic components. The basis of CIM technology is the so-called raw material, which consists of a homogeneous mixture of ceramic powder and a thermoplastic binder system. Metal injection molding (MIM), also known as powder injection molding (PIM), is an advanced metal forming technique that uses injection molding equipment to produce both simple and complex precision parts.
Metal and Ceramic Injection Molding Market: Regional Overview
The market is segmented into five major regions including North America, Europe, Asia Pacific, Latin America, and the Middle East and Africa region.
Spiking Expansion of the Automotive Industry to Propel Market Growth in the North American Region
The metal and ceramic injection molding market in North America is estimated to garner the largest revenue by the end of 2033. The growth of the market in this region can primarily be attributed to the rapid expansion of the automotive industry in the region. Approximately 923,000 Americans are engaged or employed in manufacturing automobiles and their parts, and 1,251,600 work in dealerships. As of 2021, the U.S. auto and parts industry is expected to generate approximately USD 1.5 trillion in revenue. The automobile industry, where the molding method is significantly used, contributes 3% of the overall GDP to America. In addition, the region's increased per capita income for local residents is estimated to enable them to switch to individual, environmentally friendly vehicles. About 75% of Americans say they owned a car by 2022, and another 20% say they owned a business or family car. Hence, this is expected to drive the metal and ceramic injection molding market growth in the North America region.
Make an Inquiry Before Buying this Report @ https://www.researchnester.com/inquiries-before-buying-4565
A Growing Number of Vehicles to Boost the European Market
The metal and ceramic injection molding market in the Europe region is estimated to garner the highest CAGR by the end of 2033. The regional growth can be largely attributed to the region having a strong mobility network, an increasing number of vehicles, and increasing awareness among vehicle users of a net zero emissions scenario by 2050. For instance, as per 2022 data, around 60 percent of all new passenger cars sold in the European Union emit less than 130 grams of CO2 per kilometer. Ceramic injection molding helps the vehicle manufacturers make the vehicle lighter. In 2009, the EU introduced binding CO2 standards for new cars for the first time. The 2009 regulations set a fleet average of 130 g/km for all manufacturers combined as a target for 2015. Depending on the average vehicle weight of the fleet, individual manufacturers were allowed higher CO2 emissions. The higher the average weight of a vehicle sold by a manufacturer, the higher the CO2 value allowed. In 2011, similar CO2 standards were introduced for new light commercial vehicles. The target for 2017 was 175g/km.
Metal and Ceramic Injection Molding, Segmentation by End User
Automotive
Packaging
Consumer Goods
Electronics
Healthcare
Amongst these five segments, the healthcare segment in metal and ceramic injection molding market is anticipated to hold the largest share over the forecast period. The growth of the segment can be attributed to the existence of a huge patient pool that needs to be treated in hospital facilities. Moreover, increasing per capita healthcare expenditure is estimated to contribute to the growth of this market segment. According to the World Bank, current medical spending accounted for 9.83% of global GDP in 2019. Ceramic injection molding is widely used in the manufacturing of medical and healthcare devices. Metal injection molding has a lower carbon footprint compared to other injection molding techniques, such as ceramic molding and other injection molding techniques.
Metal and Ceramic Injection Molding, Segmentation by Product Type
Plastic
Rubber
Metal
Ceramic
Amongst these four segments, the plastic segment is anticipated to hold a significant share over the forecast period. The main growth factor for the segment is the expansion of the plastics industry. According to a recent report, plastic shipments to the United States totaled about USD 400 billion in the year 2020. Owing to its adaptability, ease of production, dimensional stability, ease of manufacture, impermeability, and cost effectiveness, the demand for plastic is expected to grow significantly in the projected years. Moreover, increased activity in infrastructure and automotive manufacturing, which needs metal and ceramic injection molding, is expected to increase the utilization of plastics in the molding technique, which is expected to drive segment growth during the forecast period. As of 2019, it is estimated that the United States uses nearly 40 million tons of plastic annually.
Request for Customization of this Report @ https://www.researchnester.com/customized-reports-4565
Few of the well-known industry leaders in the metal and ceramic injection molding market that are profiled by Research Nester are Baxter International, Inc., Nikkiso Co., Ltd., MEDIVATORS, Inc., NIPRO Corporation, Diaverum AB, B. Braun Melsungen AG, DaVita, Inc., Asahi Kasei Corporation, NxStage Medical, Inc., Fresenius Medical Care AG & Co. KGaA., and other key market players.
Recent Development in the Metal and Ceramic Injection Molding Market
Sumitomo Heavy Industries, Ltd. – Sumitomo Heavy Industries, Ltd., an integrated manufacturer of industrial machinery, automatic weaponry, ships, bridges and steel structure, has launched the all-electric compact injection molding machine SE30EV-A, which enables quick setup, precision, stability, production control and reduced environmental impact. . Features such as an advanced touch panel controller and low-vibration display great power at production sites.
Signicast Corporation- To expand the precision casting leader's presence outside the United States, Signicast, one of the leaders in precision investment casting, a subsidiary of Form Technologies, has announced that it has entered into an agreement to acquire CIREX.
About Research Nester
Research Nester is a one-stop service provider with a client base in more than 50 countries, leading in strategic market research and consulting with an unbiased and unparalleled approach towards helping global industrial players, conglomerates and executives for their future investment while avoiding forthcoming uncertainties. With an out-of-the-box mindset to produce statistical and analytical market research reports, we provide strategic consulting so that our clients can make wise business decisions with clarity while strategizing and planning for their forthcoming needs and succeed in achieving their future endeavors. We believe every business can expand to its new horizon, provided a right guidance at a right time is available through strategic minds.