New York, July 19, 2023 (GLOBE NEWSWIRE) — The global flexible packaging for healthcare market size is projected to expand at ~7% CAGR between 2023 and 2033. The market is expected to garner a revenue of USD 25 billion by the end of 2033, up from a revenue of ~USD 15 billion in the year 2022.The market growth is mainly backed by the increase in per capita healthcare expenditure among the worldwide population. According to the World Bank, the global cost of healthcare in the year 2019 was estimated at USD 1,121.9. Pharmaceutical flexible packaging is a non-rigid packaging structure used to package and protect various pharmaceuticals, such as medical tablets, capsules, and powders. Flexible packaging includes materials that have undergone processing such as printing, laminating, coating, or extruding and may include various substrates such as plastic films, paper, and foils. Types of flexible packaging include plastic bags, wrapping films, lidding films, and aluminum foil laminates. Foil lids, blister packs, foil pouches, sachets.
Request Free Sample Copy of this Report @ https://www.researchnester.com/sample-request-4583
The most common forms of flexible packaging are strip packaging, blister packaging, and pouches. A lidding material and a forming film are typically used in blister packs. Lid stock is typically a laminate containing a barrier layer (such as aluminum foil) with a printed primer on one side and a sealant (such as heat seal lacquer) on the other side. Bags are typically sealed on three sides, with one side left open for subsequent filling and sealing. The sealant contacts the dosage form and the formed film. Formed films can be single films, coated films, or laminates.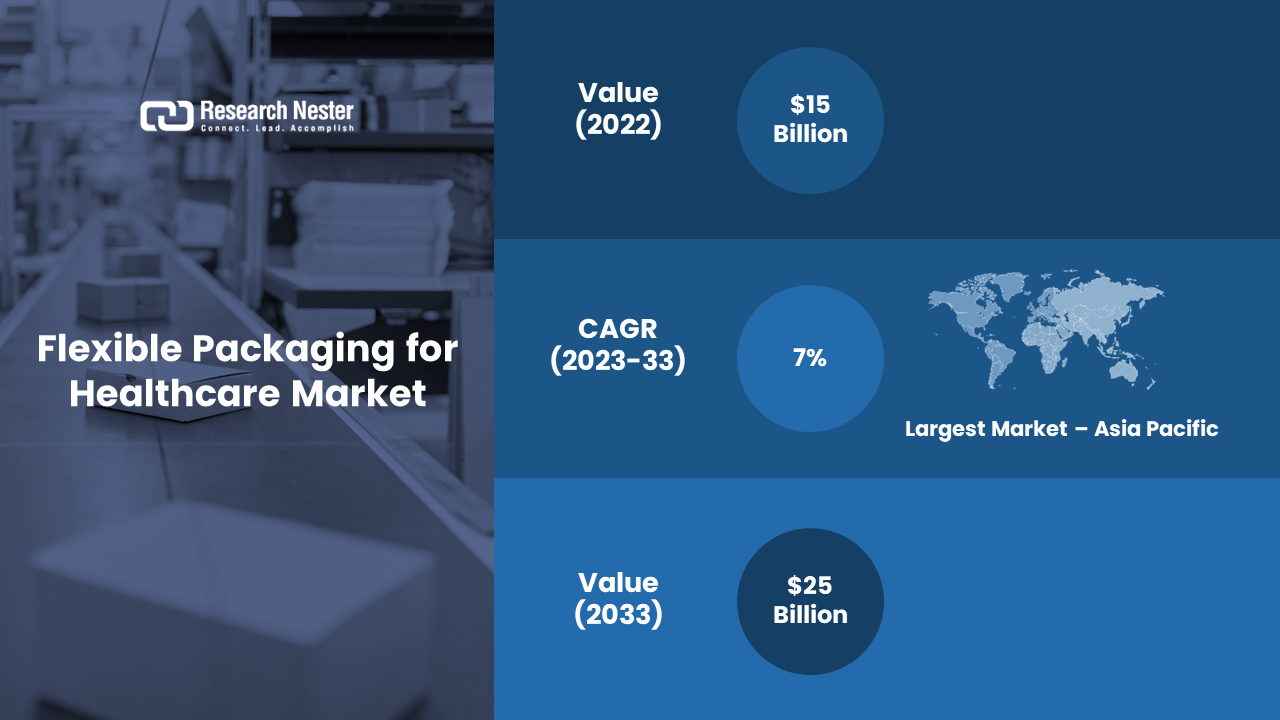 Flexible Packaging for Healthcare Market: Key Takeaways
Market in Asia Pacific to propel highest growth
The pharmaceuticals segment to garner the highest growth
Market in North America to grow at a highest rate
Constantly Expanding Pharmaceutical Industry to Boost the Growth of the Market
There is a great need for flexible packaging in the pharmaceutical industry, as flexible packaging is used to prevent spoilage of pharmaceuticals. Common examples of these products include capsules, tablets, and powders. Flexible packaging can take any shape when filled with a specific product. Common types of flexible packaging are vacuum bags, zip-locks, laminated tubes, etc. Based on the continuous expansion and growing revenue of the pharmaceutical industry across the globe, the flexible packaging for healthcare is estimated to grow significantly over the forecast period. By the year 2021, the global pharmaceutical industry is estimated to generate a total turnover of nearly USD 1.5 trillion. The pharmaceutical industry is characterized by constant change and continued development. Currently, the main drivers of change include the relocation of manufacturing to the West, price pressures, supply chain challenges, and talent shortages. Successful contract development and manufacturing organizations (CDMOs) such as Seqens drive growth by adopting flexible business models and adding new technologies and manufacturing processes to meet different needs.
Flexible Packaging for Healthcare Market: Regional Overview
The market is segmented into five major regions including North America, Europe, Asia Pacific, Latin America, and the Middle East and Africa region.
Increasing Healthcare Expenditure to Drive Asia Pacific Market Growth
The flexible packaging for healthcare market in the Asia Pacific region is estimated to garner the largest revenue by the end of 2033. Rising per capita healthcare spending, as well as rising population and disposable income in the region, are driving market growth. For instance, a region's total per capita medical expenses (in USD) in 2019 reached about 500 in China, 60,000 in India, 100 in Indonesia, and 4,000 in Japan. Therefore, such factors are expected to boost the growth of the market during the forecast period. The demand for flexible packaging products is primarily driven by millennial consumers in the region since they strongly prefer disposable-style healthcare products. Flexible packaging is a popular option for packaging such products, as these products are typically designed to be portable, durable, and lightweight. The rapid increase in consumption is expected to boost the demand for flexible packaging from the healthcare industry in the region.
Request Free Sample Copy of this Report @ https://www.researchnester.com/sample-request-4583
Regulatory Support Guidelines in the Healthcare Industry to Drive Market Growth in North America
The flexible packaging for healthcare market in the North American region is estimated to garner the highest CAGR by the end of 2033. Market growth in the region is primarily due to the presence of strong healthcare networks in the region, and the availability of regulatory support guidelines has contributed to the development of efficient treatment and packaging options for healthcare products. Furthermore, it encourages market participants to decide to invest more in research and development. It is expected to contribute to the market growth in this region. In addition, North American healthcare insurers offer efficient reimbursement policies for patients undergoing medical procedures, encouraging patients to choose more advanced medical facilities. Therefore, it is estimated that this will also contribute significantly to the growth of the market. Rising healthcare costs in the region are also expected to contribute to regional market growth. According to the Centers for Medicare & Medical Services (CMS), U.S. national health care spending increased 9.7% in the year 2020 to reach USD 4.1 trillion, i.e., USD 12,350 per capita.
Flexible Packaging for Healthcare Segmentation by End User
Medical Devices
Pharmaceuticals
Contract Packaging
Implant Manufacturing
Others
Amongst these two segments in flexible packaging for healthcare market, the pharmaceuticals segment is anticipated to hold the largest share over the forecast period. The growth of the segment can be accredited to the rapidly spiking demand for flexible packaging in the pharmaceutical industry around the globe. The industry is also expanding at a notable rate, backed by the increasing expenditure on medicines. It was noted that about USD 1.5 trillion was spent on medicines worldwide by the year 2021, up from about USD 850 billion in 2010. The pharmaceutical industry discovers, develops, manufactures, and markets medicines or medicinal products that are used as medicines to be administered to patients for the purpose of treatment, vaccination, or alleviation of symptoms. Pharmaceutical companies may deal in generic or branded drugs and medical devices. Pharmaceutical companies contribute to improving the health and well-being of society. There are many different types of pharmaceutical companies, but they all help discover, develop and manufacture medicines. Different types of pharmaceutical companies are working in different ways to develop their own treatments and medicines.
Purchase Copy of this Report @ https://www.researchnester.com/purchage/purchase_product.php?token=4583
Flexible Packaging for Healthcare Segmentation by Material
Paper
Plastic
Aluminum
Bioplastics
Others
Amongst these segments of material in flexible packaging for healthcare market, the plastic segment is anticipated to hold a significant share over the forecast period. The growth of this segment can be ascribed to the rapidly increasing usage and production of plastic all over the world and it is estimated to be used even more throughout the healthcare industry over the forecast period. As of now, the world produces over 380 million tons of plastic each year. Plastics are widely used in the healthcare industry. They are used to pack tablets, thread for suturing wounds, syringes, doctors' gloves, and many medical instruments. Most disposable medical supplies such as oxygen masks, medical tubes, and blood bags are made of safe, versatile and affordable PVC that can be easily recycled. In several parts of the world, hospitals safely collect their PVC-based medical devices and recycle them into useful products.
Flexible Packaging for Healthcare Segmentation by Product
High Barrier Films
Wraps
Seals
Bags & Pouches
Lids & Labels
Others
Few of the well-known market leaders in the flexible packaging for healthcare market that are profiled by Research Nester are Bemis Manufacturing Company, CCL Industries Inc., WestRock Company, Huhtamäki Oyj, Datwyler Holdings Inc., Mondi plc, Becton, Dickinson & Company, Amcor plc, and other key market players.
Recent Development in the Global Flexible Packaging for Healthcare Market
Huhtamäki Oyj presents recyclable and sustainable ICON ice cream packaging. The packaging system was launched in the United States and is made from 95% bio-based materials.
Mondi plc has partnered with Austrian bacon producer Handl Tyrol to provide an innovative mono-material polypropylene (PP) barrier packaging solution for bacon. It is used even more because it can prevent food loss due to vacuum packaging.
About Research Nester
Research Nester is a one-stop service provider with a client base in more than 50 countries, leading in strategic market research and consulting with an unbiased and unparalleled approach towards helping global industrial players, conglomerates and executives for their future investment while avoiding forthcoming uncertainties. With an out-of-the-box mindset to produce statistical and analytical market research reports, we provide strategic consulting so that our clients can make wise business decisions with clarity while strategizing and planning for their forthcoming needs and succeed in achieving their future endeavors. We believe every business can expand to its new horizon, provided a right guidance at a right time is available through strategic minds.