RALEIGH, N.C., Oct. 03, 2023 (GLOBE NEWSWIRE) — BERNINA-certified dealer, BERNINA World of Sewing, will be hosting a day of celebration with their Carousel of BERNINA Creativity event featuring Mr. Hanspeter Ueltschi, the fourth-generation owner of BERNINA. The event will take place on Tuesday, October 24th, 2023 from 11 AM to 4 PM ET.
The Carousel of BERNINA Creativity Event promises an immersive experience, taking attendees from one station to another to construct a take-home zipper bag using the latest BERNINA technology. Attendees can explore the capabilities of the new BERNINA 790 PRO, L 890, and the Q Series Sit-Down models.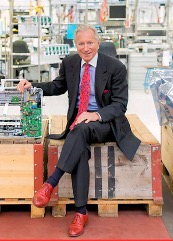 In addition to a hands-on experience, the event offers the opportunity to meet the very person behind BERNINA, Mr. Hanspeter Ueltschi. During his visit from Switzerland, Mr. Ueltschi will be available for signing BERNINA machines and manuals for a commemorative keepsake, as well as leading a lecture taking place at 2 PM.
"I am fiercely excited to host this event and have Mr. Ueltschi present," shared owner, Sona Thorburn, "I am proud to represent the BERNINA brand and look forward to our customers experiencing a brand that is so committed to quality."
During event hours, attendees can enjoy exciting prizes, exclusive in-store discounts on BERNINA products, and connection with fellow sewists and BERNINA enthusiasts.
Space for the event is limited and a reservation is required. To secure a spot, visit berninaworldofsewing.com or call (919) 782-2945. Fee is $25 for a kit and includes refreshments, door prize participation, and more. Those who purchase will receive a $25 store voucher to use at BERNINA World of Sewing's Raleigh location.

Event Details:
Date: Tuesday, October 24th, 2023
Time: 11 AM to 4 PM ET
Location: BERNINA World of Sewing at 6013 Glenwood Ave in Raleigh, NC
Reservation Fee: $25 (Includes a $25 store voucher and bag making kit)
For more information on the event and BERNINA World of Sewing, visit berninaworldofsewing.com.
ABOUT BERNINA
BERNINA is the world's premier manufacturer of quality state-of-the-art sewing, quilting and embroidery machines, overlockers and embroidery software. Since being founded over 130 years ago, BERNINA has maintained a strong commitment to serving the creative community. This dedication threads through the Swiss precision found in every machine, the training and education available through our over 400 fully trained independent BERNINA Dealers and the endless tutorials and content shared on the BERNINA WeAllSew blog and social media channels. BERNINA products are designed for beginning to advanced sewists and priced to meet a variety of budgets, with new products being introduced every year.
Photos accompanying this announcement are available at:
https://www.globenewswire.com/NewsRoom/AttachmentNg/5f4bd669-3442-47b8-bcb7-fea10012d60f
https://www.globenewswire.com/NewsRoom/AttachmentNg/b11d87ba-eb22-4f2c-85c1-b204f31fd64e